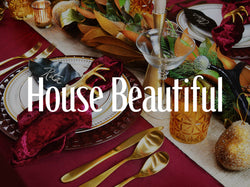 Skip the dishes and rent these curated, high-end tablescapes
BY EMMA BAZILIAN
Your Instagram-worthy dreams are about to come true.
When it comes to my decor hoarding tendencies, almost nothing is off limits—I could spend hours going down a rabbit hole in search of a tissue box cover or drawer pull. But tabletop is a different matter. Perhaps due to the limits imposed by my New York apartment (complete with a tiny table and general lack of storage), amassing a proper collection of "nice" dishes, linens, and serving pieces has never been at the top of my priority list. Lately, though, with so many of us relegated to at-home dining, I've found myself scrolling enviously through the perfectly curated tablescapes that dot my Instagram feed before.
Luckily for me (and my wallet), there's a new crop of companies giving customers the chance to rentpicture-perfect table settings for their next dinner party (since, let's face it, I'll probably only use that $300 block-printed tablecloth I've begun coveting twice a year). And when I say "rental," I'm not talking about the usual nondescript plates and too-shiny napkins; instead, these startups have gathered top-tier labels that'll have any in-the-know girl going weak at the knees, which means you can get your hands on that Amanda Lindroth tableclothor La DoubleJ plates you've been coveting without making a major investment—or worrying about how you'll fit them in your already-full cabinets. The best part? When you're all done, just send it all back as-is—no dish-washing or laundering required.
Read on to find out about three of the companies making it a breeze to dominate the tablescape competition.
Hestia Harlow
For the one-stop shopper.
The newest entrant in the rent-a-tablescape scene, Washington, D.C.-based Hestia Harlow offers "event in a box" experiences for parties of four or more, with options designed for everything from lowkey-luxe dinners to holiday extravaganzas. Every curated package include all the basics you need to host a superbly styled dinner, like linens, dishes, flatware, and napkin rings, all of which can be packed up and returned within two days of your event. Want to take it to the next level? Choose from a list of extras like coordinating centerpieces, fresh floral arrangements, cocktail kits, specialty stations (think s'mores or caviar), and hand-lettered place cards. (You can even do personalized pumpkins for your Thanksgiving table!) And don't forget the kids' table—Hestia Harlow's "half hosting" packages have all the fixings for a kid-friendly holiday party or birthday celebration.
Cost: $40 to $55 per place setting.
← Older Post Newer Post →