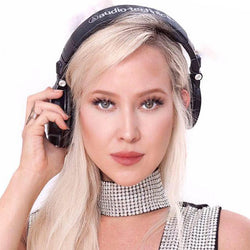 SETTING THE RIGHT VIBE
Our resident DJ Catarina Starke aka DJ Blondie shares some of her favorite mixes in our exclusive Hestia Harlow Spotify channel. Get your party off to a great start with one of her curated playlists that match our many themed collections.
Find her exclusive playlists ON SPOTIFY
"The world has never been a more divided place. Just turn on the news. Culture wars, identity politics, and people fueled by the ugliest emotion: Hate.
I see Music as its own Religion and the dance floor as its Temple. Meaning, one universal thing is: no matter who you are and what you believe in - coming together in a bubble of music to connect on a loving, primal level trumps all hate, politics and cultural background. Music and dance is a universal language of empathetic connection. It's been that way from the dawn of time. I believe this."
DJ Blondie