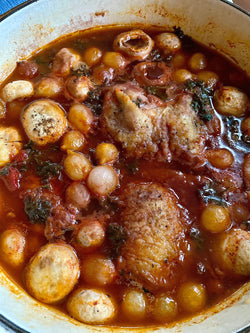 Comfort Food You'll Crave
In this long year of the pandemic, I have found myself cooking at home regurlarly. Especially this past winter when I challenged myself to explore some classic comfort foods from around the world. This classic French dish fast became one of my favorites. It also is a breeze when you throw everything in a slow cooker. This delicious Coq au Vin recipe is from Marian Burros, a frequent contributor to NYT Cooking. It's great for a cold day and can be served for lunch or dinner with some hearty French bread and a glass of Bordeaux. Bon appetit!
Ingredients:
5 lbs skinless chicken breasts
1 cup unbleached flour
Salt & Ground Black Pepper
¼ cup olive oil
¼ cup Cognac or Brandy plus 4 tablespoons
2 tbsp chopped fresh thyme
1 bay leaf
3 tbsp minced parsley, plus additional for garnish
2 tbsp tomato paste
1 pound small white mushrooms, cleaned, and stems removed
24 pearl onions, peeled
1 bottle (750 ml) good dry red wine
2 tbsp Madeira or Marsala
Instructions:
Wash and dry the chicken pieces thoroughly. Season 1 cup of flour with salt and pepper, and flour the chicken lightly, using additional seasoned flour, if necessary.
Heat a large, heavy-bottomed pot over high heat. Add 2 tbsp of olive oil, and continue to heat until the oil is very hot but before it begins to smoke. Quickly brown the chicken on all sides, cooking thighs and then breasts in batches to avoid overcrowding and to assure even cooking. Add the remaining oil as needed.
Return the browned chicken to the pot. Add ¼ cup Cognac, heat briefly and then flame. When the flame dies out, stir in the thyme, bay leaf, parsley, tomato paste, mushrooms, onions and wine. Cover the pot, and bring to a boil; reduce heat to a simmer. Cook about 20 mins, or just until tender.
Refrigerate or freeze. (This is one of those dishes that taste better reheated)
To serve, defrost, if the chicken has been frozen. Reheat slowly. Just before serving, add the remaining Cognac, the Madeira, the remaining parsley for garnish, and salt and pepper. Remove the bay leaf before serving.
 My note: It's great with a side of potatoes or over a bed of egg noodles – or by itself with some rustic bread to dip into the sauce.
Maggie Hogan @aneatingaffair
Food Contributor for Hestia Harlow