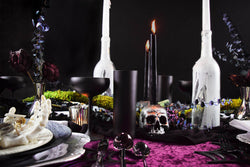 Get Spooked!
HALLOWEEN WITH HESTIA HARLOW
So easy it's scary.
Looking for an effortless way to host a haunted Halloween gathering with your inner circle? Check out our Haunt Your House rental hosting. Guaranteed to spook your guests this season! 

Don't worry about commitments, just rent & return. 
Enjoy custom printed Prosperity Spell napkins, cobweb placemats, and Victorian skeleton dinner plates without the worry of where to store them during the off-season.
Our rental hosting collections must be booked 2 weeks in advance - start planning your ghoulishly good time now! 
LET'S HEAD SOUTH OF THE BORDER.
Dia de Muertos
We're honoring Mexican culture with a Day of the Dead inspired rental hosting collection. 

The multi-day holiday revolves around gathering to pray and remember friends & family members who have passed on. This celebration of life and death helps support their spiritual journey. In Mexican culture, death is viewed as a natural part of the human cycle. Mexicans view it not as a day of sadness but as a day of celebration because their loved ones awaken and celebrate with them.

Celebrate your loved ones with a colorful, cultural tribute equipped with Calavera dinner plates, serape inspired table runner, and Papel picado placemats.


ADD A STATION
Pick Your Poison
Don't forget to add a drink station to your party!

Allow your guests to discover their preferred potables with our
Pick Your Poison drink station. This rental comes equipped with an array of  blood bags, syringes, carafes, test tubes, and potion vials to serve your spooky, boozy beverages.
KID TESTED, KID APPROVED
Halloween Half Hosting
'Half Hosting' is the Hestia Harlow term for the kids' table!
Charm your little ones with our Hocus Pocus collection.
Each dinnerware piece is shatterproof so there's no need to worry about accidents with this rental collection.
The effortless set up allows you to sit back and relax while their imaginations soar with lil' cutie pumpkin plates, mini cobweb placemats, and colorful faux bone props.


ELEVATE YOUR PARTY

Cake & Caviar
This Black Rose cake from our partner, We Take the Cake, is made with four moist layers of cake filled and frosted with rich chocolate cream cheese frosting, colored black. Both beautiful and spooky!
All baked goods ship on dry ice, nationwide.
So effortless.
Impress your guests with an unconventional caviar treat at your Halloween gathering.

This White Sturgeon caviar by our partner, ROE, is sustainably farmed by aquaculture in California. Pair it with their ROE potato bites and Crème Fraîche for an indulgent, delectable bite.
DON'T FORGET TO...
Rent a linen!