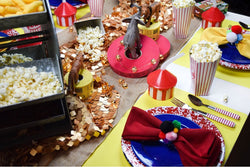 Kid (and Parent!) Approved
Come one, come all
TO THE GREATEST SHOW! 
Introducing our newest half hosting collection - The Greatest Show!
Bring the circus to you and feel the magic of big top sippy cups, popcorn cartons, and pom pom napkin rings. This circus collection is the perfect setting to entertain your little clowns.
Kid approved! 
HALF HOSTINGS FOR THE WHOLE FAMILY. 
Don't just take it from us!
Read what real customers are saying about rent & return kid's parties!
"Living in a small home, we do not have the luxury of space for storage. Hestia Harlow has allowed our family to celebrate in a fun and unique way without the inconvenience of having to figure out where to store everything that you only use once a year!
My kids love the special boxes that arrive from Hestia Harlow and are eager to pop open the box to peek at our special celebration. They love setting the table and love the surprises Hestia Harlow sends along as a "keep it" moment.

 When life returns to "normal", we're looking forward to having friends over and using these place settings to make gatherings even more special, fun, and memorable! 100% recommend."
-Jody  Columbus, Ohio
← Older Post Newer Post →