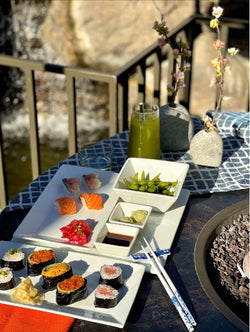 Turn Up Your Takeout
Sushi Night 
NEVER LOOKED SO GOOD.
Looking for ways to dress up your take out?
We've got you covered!

The "Good Times Roll" collection makes sushi night special by infusing the artistry of Japanese cuisine into each element.
Turn up your takeout with a Shibori table runner and
stunning floral chopstick sets. 
Bring the drama
BY ADDING A CENTERPIECE.
This collection's earthy stone vases are the perfect complement for the light and airy blossoms we used to style this table. 
But that's not all! The "Good Times Roll" centerpiece package also includes matching serving plates, bamboo mats (if you have a flair for rolling your own), a sake set, and more for all the sushi lovers in your life! 
What's your favorite sushi joint? We have too many to count, but this week we were loving Sugarfish LA!
Coastal Cool 
GOES OUTDOORS! 
Take your Hestia Harlow dinnerware on an adventure - just add take out!
← Older Post Newer Post →