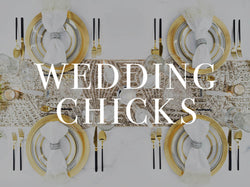 How to Set The Scene For Your Micro-Wedding with Hestia Harlow
How do you create and pivot your dream wedding tablescape for your now micro-wedding? This is such a great question, as this is exactly why we created
Hestia Harlow
! Having planned 1000s of large scale events, we felt the market needed an accessible and economical way to have designer, rentable, tabletop decor for smaller events. We have found a way to deliver beautiful table settings, centerpieces, linens, bar stations, and accentuating decor without the need for high minimums- and deliver it nationwide! We like to call ourselves the "Rent the Runway" of events.
Here are some tips on how to make your micro wedding table decor a showstopper.  With a smaller wedding, all the details really shine. First start with your inspiration photos or Pinterest board. Think about your surroundings and the style. Are you looking for indoor or outdoor, formal or casual, bold or neutral?
At Hestia Harlow, we have over 700,000 design combinations. You can choose any one of our designer collections and the corresponding centerpiece, or try mixing a table setting with your favorite centerpiece. For micro weddings, you can make the centerpiece more elaborate by adding non-floral (candle and decor) and floral components for a high-end luxe feel. For a simple, chic tablescape, try selecting only one type of centerpiece. If your party is more than 4 people, you could even combine different sets of styles to create alternating place setting looks, for a truly one-of-a-kind spread.  
At the bottom of each collection's webpage, the design team has put together a list of add-on's, including linens, cocktails, food, and custom items. Now that your wedding is smaller, take advantage of personalization by adding customized place cards and beautiful menus to add an extra level of detail. Our mission to create a one-stop shop for all your micro-wedding needs!
We also offer custom accents for place settings- these could be guests names, words, or even sayings.
With smaller, more intimate weddings, a beautiful grazing board can be tucked in amongst a simple centerpiece or stationed at the bar for stylish grab'n go hors d'oeuvres. This is a great way to serve family-style amongst your pandemic pod. Or try individual cheese boards catered to the guests' preferences for a truly high-touch feel. 
On top of table decor, we have station rentals. This rental serves up to 10 people and creates an easy way to have stations like a "Bubbly Bar", rose bar, S'mores grab and go, raw bar, curated cocktails, and many more!
← Older Post Newer Post →