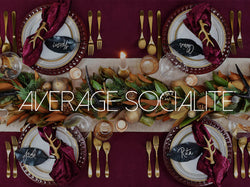 Hestia Harlow for your Holiday Party-Planning Needs
BY AVERAGE SOCIALITE
Average Socialites – looking to host a Holiday party but don't know where to start amidst the COVID-19 pandemic? Look no further.
Hestia Harlow has effortlessly created a rent and return hyper-curated, one-stop event hosting platform that's bringing BACK all your special occasions to life. The hosting startup has taken the planning out of party planning with its effortless rental service that delivers all the details directly to its customer's doors – even the florals!
Hestia Harlow is for those who don't have time to plan or get stressed even thinking of throwing a party. It's literally an 'event in-a-box' concept that takes the hassle out of the preparation. Customers can simply choose from any of its stylish collections and/or products, select a date and confirm. With just a few clicks customers can order stylish table settings, bespoke decorations, collection inspired florals, innovative cocktail and food stations, plus so much more. The items arrive the day before the soirée with custom how-to-host instructions, a return shipping label; and the best part, nothing to buy, nothing to keep, and no dishes to wash.
Founders, husband and wife duo Andrew and Marielle Shortell, and partner Dave Myers have more than 50 years of global event experience. They have brilliantly packaged large lavish events into small micro-events that are now 'curated moments at your doorstep" that reflect elegance, ease, and safety with its contactless delivery. The online platform allows first time hosts or experienced ones to build out their own customizable soirée of their dreams in which they select their tablescape, food, and experiences, gifts, and more making it as unique and over the top as they desire.
With video tutorial guides, tips, and resources on their platform, you save thousands of dollars by not having to hire a planner. The wide array of customizable table settings includes table runners, plates, flatware, glassware, linens, candles, florals, and more! The best part… once the party is over, there's no need to do the dishes. All items are returned in your custom event box, which is also sustainable, and are picked up the next day. Genius, right!? 
Read More
← Older Post Newer Post →