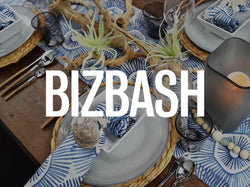 Event Planners Are Thinking Micro To Bring Back Live Events
BY BIZBASH
Micro-events are everywhere. There are micro-weddings, micro-mitzvahs, and a new concept, Hub-and-Spoke, a hybrid virtual platform that includes small live gatherings and parties. Is this the way forward for the recently hard-hit event industry? Hestia Harlow thinks so. The new event decor and rental start-up aims to change the way the industry will look now, and into the future. It's hyper-curated table settings, contactless party-in-a-box delivery concept, and wide array of products and services, provide a great resource for planners struggling with COVID-19.
"We wanted to bring all the excitement and design from a large-scale event to the table," said co-founder Andrew Shortell. "Planners today need a way to coordinate smaller live events that will impress their clients. We believe this is the solution."
As industries adapt to new demands, we are seeing a new trend of renting vs. buying. Companies such as Rent-the-Runway, Fernish, and Joymode are tapping into consumers' desire to downsize and have more mobility. "Many young American urbanites have resigned themselves to a life of non-ownership." wrote Sapna Maheshwari of The New York Times, "Renting isn't just a matter of necessity these days, it's become almost posh."
Hestia Harlow offers hyper-curated settings of four or more, complete with table runners, chargers, plates, flatware, glassware, linens, candles, and so much more. Planners can select from the wide range of tablescapes, then add as many details as they wish, including custom routed place cards, designer florals, cocktail kits, and gifts their guests may keep. In addition to table decor, the company offers creative food and drink stations paired with specialty items such as caviar, boozy marshmallows, oysters, and even CBD water.
"Our vision is to build a community," Shortell noted. "One that provides hyper-curated products and services for planners across the country."
Hestia Harlow has created a service that takes the hassle out of planning (and hosting) multiple small events at the same time. Here's how it works. Hestia Harlow creates custom landing pages allowing individual hosts to select their tablescape(s), food, and experiences for the night. Once confirmed, everything is delivered to the host's doorstep with helpful instructions and videos; sometimes even including special digital demonstrations from a notable chef or mixologist to be streamed during the event. The best part, after guests leave, there's no need to do the dishes. All items returned to the custom party box are picked up the next day.
This new trend is here to stay. These small intimate gatherings will deliver elegant, eclectic, and effortless entertaining that dazzle guests, long after safety guidelines disappear.
This is truly event planning of the future.
Read More
← Older Post Newer Post →