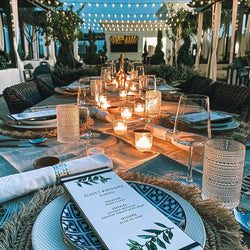 Set Your Table from Anywhere!
Set your table
FROM ANYWHERE.
Just because you're on the go doesn't mean you
can't set the table in style!
Rent your dinnerware for a custom look wherever you are this summer.
Did you know?
WE SHIP ANYWHERE IN THE CONTINENTAL U.S.! 
For a flat rate of $35 per box, we ship directly to you or your home away from home.

Let us know your travel dates and our helpful herd will ensure your deliveries get to the correct location and for your travel dates.
Your personal chef -- 
IN A BOX!
Our catered meal boxes arrive ready to hit the table – all you need to do is heat it & plate it!
Has dinner prep ever been so effortless?
← Older Post Newer Post →