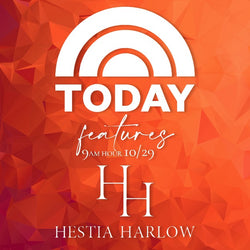 "TODAY" is the Day!
We are thrilled to share that Hestia Harlow will be featured on the Today Show tomorrow morning (10.29)!

 Beginning at 9am, Hestia Harlow will be highlighted during the 3rd hour of the Today Show in a segment called She Made It hosted by the fabulous Jill Martin.
Jill will explore the story of Hestia Harlow and how our founder, Marielle Shortell, navigated the launch of her second small business in these uncertain times. Join us as Marielle shares the ups and downs of pivoting during a global pandemic, how to make home entertaining effortless, and go behind the scenes with the HH design team.

Tune in tomorrow at 9am – and keep an eye out for the exclusive limited time discount code viewers can use on a future order!

We can't wait to share our story with you!
In the meantime....
GET TO KNOW OUR THANKSGIVING HOSTINGS
It's hard to put into words how grateful we are for all the support we've received from the HH community. Our More Than Words Thanksgiving collection sets the perfect backdrop to gather and share gratitude this season.
Need More Platters?
NO WORRIES!
Change it up this year and rent your serving platters.
Yes, you heard correctly!
There's no need to shop online and worry about arriving on time or broken pieces. No need to stress about shopping in a store or waiting in line. No need waste time rearranging your cabinets to store platters. Simply rent & return! Done and done.
Pile It On! 
THE SWEET TREATS, THAT IS
Need something show-stopping to stack high on your serving platters? Look no further than these beautiful and tasty Pumpkin Spice Cake Bites! Freshly baked and shipped to your doorstep by our partner, Caroline's Cakes, these cake bites make the perfect addition to your dessert platter. 

Or, share your dessert nationwide by shipping to a loved one you're missing!
(After all, what better way to say "I love you" than with cake?)
← Older Post Newer Post →